Dropdown menu and nice modules
Spices theme give you a beautiful dropdown main menu, responsive slideshow module and some of standard EShop modules.
Dropdown main menu with multiple levels.
Top menu.
Custom HTML logo module.
Multiple currencies module.
Products ajax search module.
Mini cart module.
Login/create an account module.
Responsive and smooth effect slideshow module.
The ability to show modules on any pages.
The ability to make copies of modules to show them on different pages.
Custom modules to show images, links to EShop categories under slideshow module.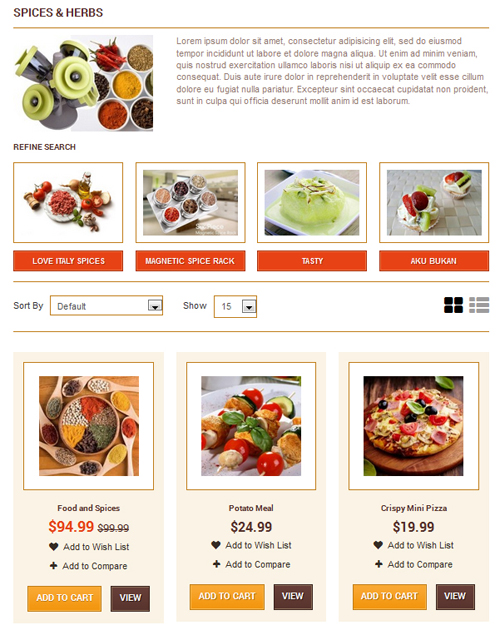 Products List Layout
This layout to display list of products in a specific category or a specific manufacturer or on the front page.
Information (name, image, description) of category/manufacturer are displayed on top part.
The ability to show/hide the image/description of main category.
Display image and name of sub-categories.
The ability to show/hide sub-categories.
Grid/List view: Nice, smooth and easy to alternative between views.
Sort options.
Standard pagination.
Display product image.
Display product name.
Display product price.
Display Add to cart button to add product to the cart.
Display Add to compare button to add product to the comparision page.
Display Add to wishlist button to add product to the wishlist.
Display View button to go to the product details page.
Nice look of link, images, text and buttons.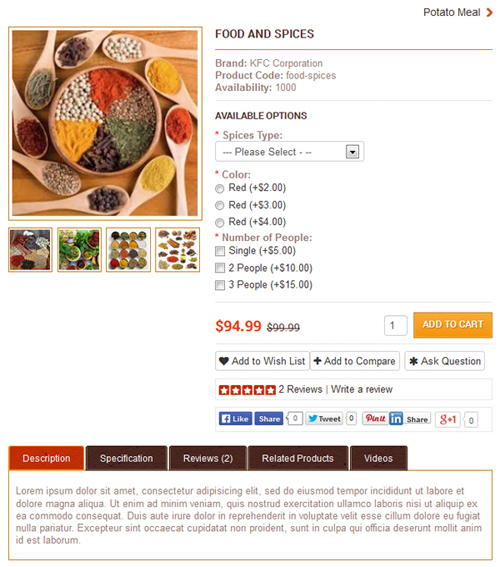 Product Details Layout
This layout to display details information of a specific product.
Display product name.
Display product main image and product additional images, popout to view real large images.
View images in the popout window or zoom.
Display product SKU.
Display product rating, number review.
Display social share buttons (Facebook, Twitter, Pinterest, Google+, LinkedIn)
Display manufacturer name.
Display product options (Select list, Radio list, Checkbox list, File, Text, Textarea, Date, Datetime).
Display product price and Add to cart button.
Display Add to wishlist, Add to compare and Add question buttons.
Description tab to display product description.
Specification tab to display product attribute groups, product attributes.
Related products tab to display replated product.
Reviews tab to display reviews for product, display review form to allow user to submit review, display Facebook comment.
Additional tabs to display more information for each product.
Meta tag and Meta description is added to the page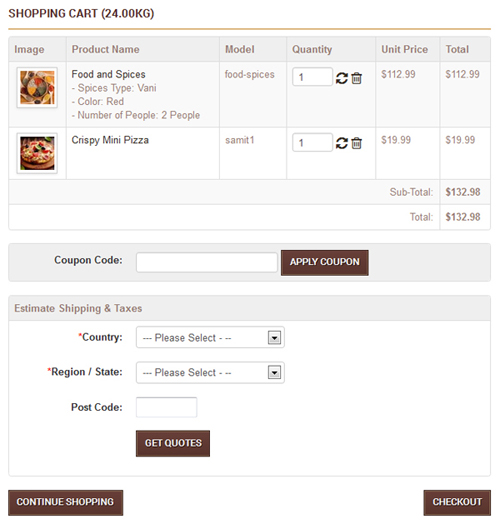 Shopping Cart Layout
This layout to display shopping cart page.
Display products that users added to the cart
Display product image
Display product name
Display product SKU
Display quantity
User can update quantity or remove product to the cart
Display unit price
Display total price
Display project options
Display Sub-total, Tax, Shipping, Coupon and Total
Display Coupon form to allow user apply a coupon to the cart
Display Estimate Shipping & Taxes form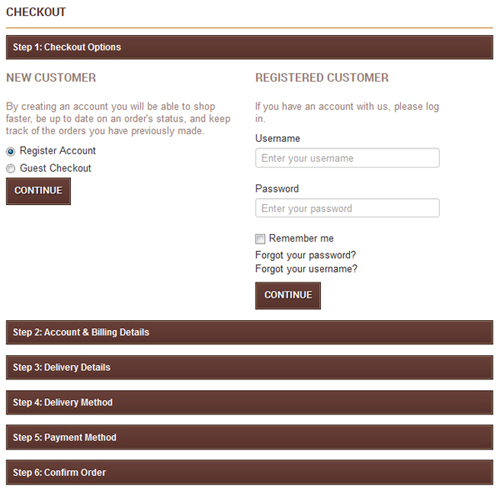 Checkout Layout
This layout to display EShop one page checkout page. Moving between steps is very smooth and easy. After passing steps, user can go back to any previous steps to edit their information.
Display totally of 6 steps for checkout.
Step 1: Checkout Options (Register account, Guest checkout, Login account).
Step 2: Account & Billing Details.
Step 3: Delivery Details.
Step 4: Delivery Method.
Step 5: Payment Method.
Step 6: Confirm Order.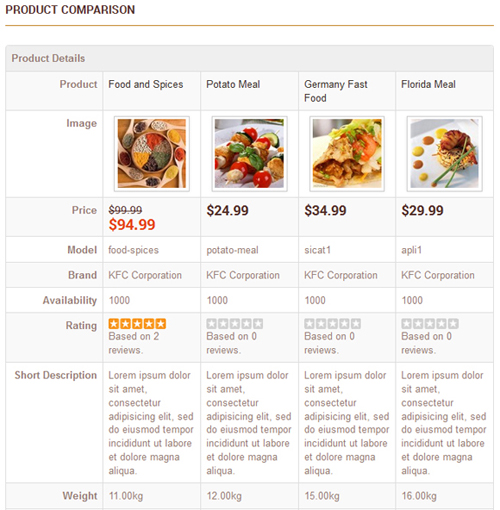 Product Comparision Layout
This layout to display products for comparison.
Display maximum of 4 products to compare, each product in a column.
Display product name.
Display product image.
Compare price.
Compare model.
Compare manufacturer.
Compare availability.
Compare rating, review.
Compare short description.
Compare long description.
Compare weight.
Compare length, width, height.
Compare attributes.
Display Add to cart button.
Allow remove products from comparison page.
After purchasing EShop Spices Theme, you will receieve eshop-spices-theme.zip. Login to back-end of your site, go to Components->EShop->Plugins->Themes, then choose eshop-spices-theme.zip to install:

After installing, let's enable Spices theme. Then go to System->Configuration->Layout tab and choose Spices as theme instead of Default theme: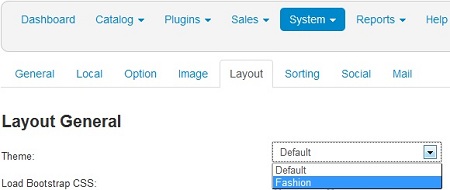 When should you contact us?
Are you interested in this our extension and want to send pre-sales questions?
Do you need the technical supports?
Would you like to suggest features / require custom works?
Or any other reasons that you want to contact us?
---
How do you contact us?

outsourcepro

This email address is being protected from spambots. You need JavaScript enabled to view it.

This email address is being protected from spambots. You need JavaScript enabled to view it.